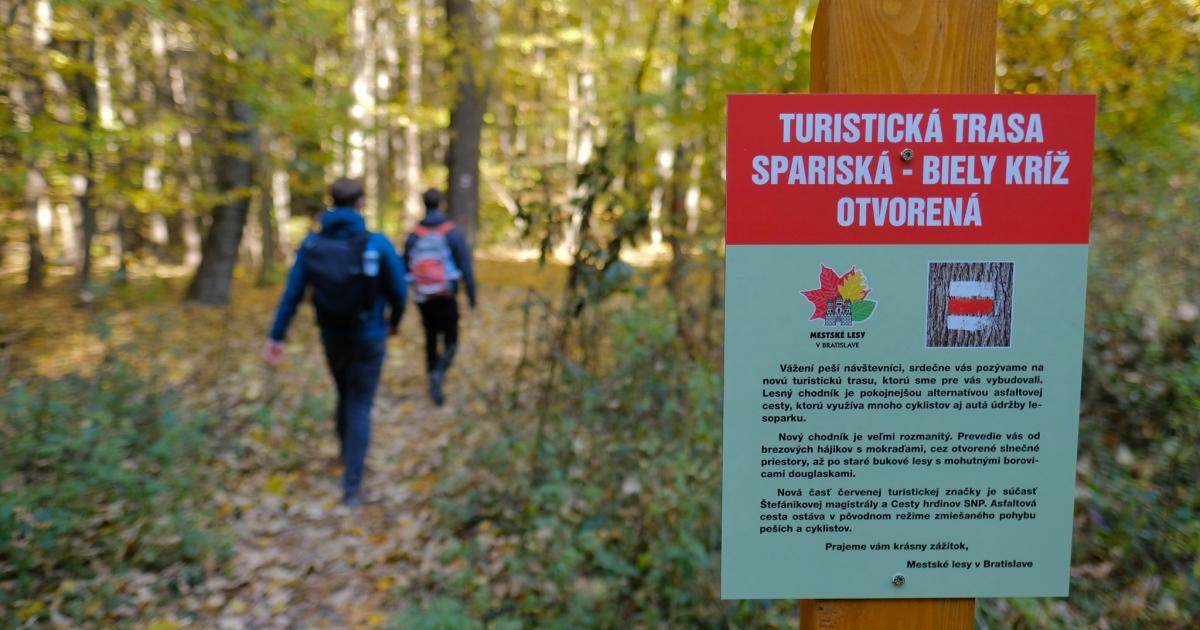 Bratislava Forest Park gets a new hiking trail
Opening of a new hiking trail in the Bratislava Forest Park
The trail bypasses a busy bike path and winds through a birch grove, wetlands, Douglas firs and a lake
A new tourist route has been created in the Bratislava Forest Park between Sparísk and Biely kríž. The Forest Trail leads visitors through the scenic recesses of the city's forest, bypassing a busy asphalt bike path.
Avoid damage to the forest environment
The new red-and-white marked trail is part of the Cesty hrdinov SNP (Heroes' Trail), which stretches from the Dukliansky Pass to Devín. The recently opened section measures a total of 5 km and was built in an ecological manner without ground cover interventions or felling of trees. More than 100 volunteers, walking and running enthusiasts participated in the work of the new trail.
Describing the new hiking trail, Matej Dobšovič, director of municipal forests in Bratislava, said, quoted by the city ​​website:
"The new route is a more pleasant alternative to the original asphalt road. You avoid cyclists, it is not demanding in terms of physical fitness and at the same time leads visitors through the attractive recesses of the city's forests. Here, varied forests alternate with open, sunny areas.Visitors will also see a birch grove with wetlands, huge Douglas fir trees native to North America, and a horseshoe lake with a beech tree. 150 years."
Forbidden to cyclists
The route is freely accessible only to hikers and joggers, and the forest management asks cyclists to respect this fact and to use the network of marked cycle paths in the region. The new route is part of efforts by Bratislava Municipal Forests to separate a number of hiking and biking trails so that walkers and cyclists can have their own space without interfering with each other's activities.
The new section can be walked at a leisurely pace in about an hour, and the fastest way to reach the route is from the Horáreň Krasňany recreation area at the end of Pekná cesta.
About Bratislava Municipal Forests
The municipal enterprise manages more than 3,000 hectares of forest, owned by the capital of the Slovak Republic. These include popular places such as Partizánska lúka, Železná studnička, Kačín, Kamzík and Horáreň Krasňany. In addition to creating favorable conditions for recreational activities, the company also focuses on nature protection, eco-education of children and sustainable forestry.