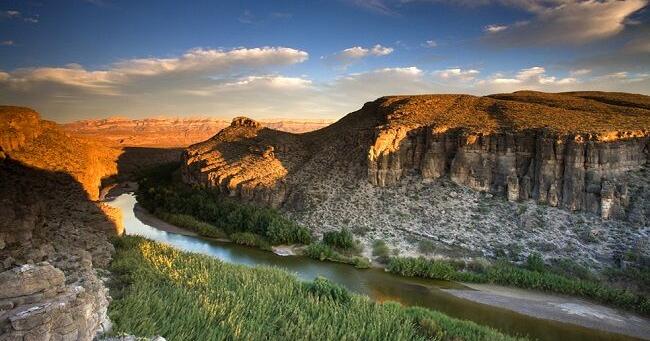 Camping, hiking and spectacular scenery await you at Big Bend National Park | through the fort
BIG BEND NATIONAL PARK – Hiking, biking, horseback riding, camping, bird watching, river trips, sightseeing, ziplining, spas and retreats and a day trip down the Rio Grande to Mexico are among the activities available in and around Big Bend National Park, one of the state's most popular outdoor vacation destinations.
Once known as a remote and somewhat ominous area accessible only by miles of dirt roads along the Texas-Mexico border, Big Bend now attracts more than 450,000 visitors a year who are drawn to the spectacular scenery, diverse wildlife, outdoor adventure, historical sites and culture.
There are four developed campgrounds in Big Bend that provide drinking water and restrooms.
The Chisos Basin Campground is centrally located in the park in the Chisos Mountains; The Rio Grande Village campground is on the east side of the park near the river; Cottonwood Campground is on the west side of the park near the river; and Rio Grande Village RV Park is next to Rio Grande Village Store.
Camping reservations are required. Call 432-477-2293 for details or go to www.recreation.gov.
Backcountry camping is available with a special permit for visitors with rugged vehicles, or a willingness to leave civilization behind and backpack in the wilderness. Campers are welcome to stay in the park for up to 14 consecutive nights at a front or backcountry site, with a limit of 28 total nights in the park in a calendar year.
Pets are allowed, but there are a number of safety guidelines to protect the safety of the family friend, as well as the safety of other people and park wildlife. These safety guidelines include:
Pets are not allowed on the trails, off the roads or on the river. Your pet can only go where your car can go.
Pets are not permitted to enter Mexico at the Boquillas port of entry.
Pets must be on a leash not exceeding six feet in length (or in a cage) at all times.
Pets cannot be left unattended in vehicles if this creates a danger to the animal or if the animal becomes a public nuisance.
If you plan to hike or take a river trip, someone must stay with the animal or you will need to make arrangements with a kennel service. There is no kennel service in the park.
Pet etiquette and park regulations require that you always clean up after your pet and dispose of trash in the trash cans.
Day trips to Mexico via the Boquillas Port of Entry crossing point are available. Do some exploring as you take a leisurely stroll through town and browse handicrafts from local vendors like wire sculptures, embroidered textiles, quilts and more. There are two restaurants to have a freshly cooked meal.
From November 2 to April 30, river crossing hours are 9 a.m. to 4 p.m. Wednesday through Sunday. All visitors to Boquillas must present a valid passport and wear a mask inside. This is a law in force in the Mexican state of Coahuilla.
To visit Boquillas, park in the walk-through parking lot near Boquillas Canyon, where a round-trip ferry ride is $5. From there it is a half mile walk to the village. Local guides are available, as well as horseback, donkey or car rides.
Visitors are required to register with Mexican immigration officials upon arrival in Boquillas and pay a small entrance fee ($3) to the Mexican Protected Area in which Boquillas is located. Visitors planning to stay overnight in Mexico will need to apply for a temporary visa. . Secure overnight parking at the Boquillas Crossing Port of Entry may be available.
Big Bend is a rugged area 450 miles southwest of Killeen-Fort Hood, and good preparation may be required to fully enjoy the experience.