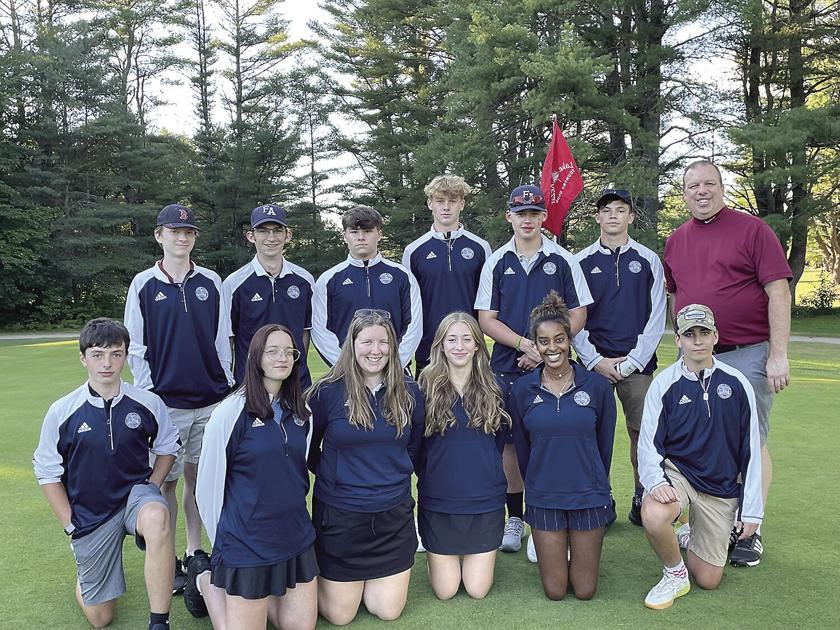 Fall Sneak Peek: Raiders set off on a golf storm | High school
FRYEBURG – The school year has only just started, but the Fryeburg Academy golf team is almost behind its schedule. The Raiders have been busy on the Ties having already played five games.
"We played a lot earlier this year," said coach Chris Dutton, who guided the Raiders to a 2-3 start. "Two of our losses came from a single putt. We could very easily be 4-1.
This year's team members include senior Rohan Hikel; juniors Dan Day, Ainsley Foster, Zemmi MacMillan, Abigail Otengco, Thomas Otengco, Maggie Pierce and Bryce Richardson; sophomores Sean Davis and Ethan Lord; and freshmen Sam Day and Quinn Hagerty.
Fryeburg opened its preseason on August 16 and was on the green to play the opener on August 24.
"A week of practice and then our first game on day six," Dutton said with a laugh. "I really don't mind, it would be nice for our guys to play while the weather is nice."
The list of the team could grow this week with the arrival of the students in dormitories. Dutton said four have expressed interest in playing.
"Honestly, I have no idea how competitive they are, we'll see," he said. "We have 12 children at the moment. We are young with a lot of beginners. Its good. I already see a lot of improvements.
Dutton added, "Their work ethic has been excellent. I couldn't have a better group. They all want to learn and love the game and aren't frustrated if they pull off a bad move or two.
Dutton was impressed with a number of his players.
"Ethan Lord is just in second year, but he played well," he said. "He started shooting in his 50s (for nine holes) and is now down to his 50s. He understands things quickly for someone who has never played before.
Hagerty: "It's raw but has great potential. He went through the junior clinics. I think it could be good. He shot 50 for us at the Spring Meadows Golf Course against Poland on August 30).
Sean Davis: "Only a sophomore, he was our best player. He's in a bit of a difficult position because he has to play against the best of the best of the other teams. Sean handles it all pretty well. He shoots in the mid 40's and I might see him in his 30s before too long. He's a great boy who likes to work on his game.
Richardson: "Bryce has raw ability. He plays # 2 for us. He has a bit of sway and attitude, but his game is going well.
The Raiders beat Poland 203-215.
Fryeburg's score was Richardson, 48; Davis, 49; Hagerty, 50 years old; Lord, 56 years old; Thomas Otengco and Foster both shot 71.
The Raiders play at Lake Kezar Country Club in Lovell, Maine.
"They treat us wonderfully," Dutton said. "The people there go out of their way to support the children, it's a great community atmosphere."
Dutton hopes his team can spend some time at the North Conway Country Club driving range in the near future.
"We don't have a driving range at Kezar Lake, so you kind of have to do all the training on the course. A few times at North Conway will be productive as it gives me more one-on-one time and I can be more hands-on with things. "
Dutton hasn't named a team captain and likely won't.
"As a general rule, I don't usually do captains with golf," he explained. "I always had a good group when I didn't need a leader to bring people together. As I said, it's a very good group, very coachable.
Dutton has spoken of goals for the Raiders.
"Consistency," he says. "It might sound like a boring word, but being able to consistently hit the same shot every once in a while and build that muscle memory on the course."
Dutton added, "I want our team to know how to run a course when it comes to shot selection. There is a small learning curve to overcome. You have to learn, how do I attack a hole and then you are not so focused on your swing. This part comes with repetition.
Dutton considers golf a "sport for life," but to improve you always have to work on your game.
"I would love for these guys to play next spring and summer," he said. "You can't expect to show up in mid-August and expect to have an A-plus game."
Fryeburg was scheduled to face Cape Elizabeth and St. Doms, "against league heavyweights," according to Dutton on Thursday. The results were not known at the time of publication.
Raiders are expected to pay Freeport and Old Orchard Beach on Tuesday at 3 p.m.
"We're almost halfway through the season," said Dutton. "Part of the reason we're so in the playoffs is because of the fade of the day. We try to play as many matches as possible before it gets too dark.