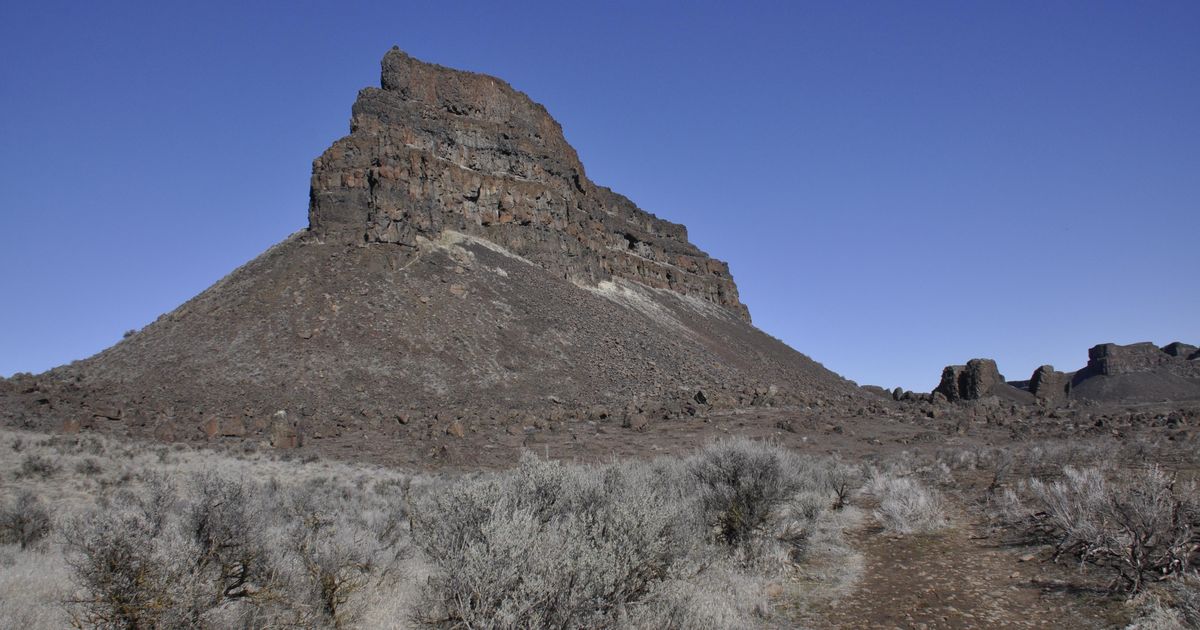 March hikes: disappearance of snow reveals incredible hiking possibilities
Hikers are ditching MICROspikes and snowshoes this month. March is when they show off their soles on the lowland trails where most of the snow is gone and buttercups are blooming.
From the Columbia Basin Wildlife Area near Quincy to Mineral Ridge at the northeast end of Coeur d'Alene Lake, the parking lots at the trailhead were packed last weekend. Visitors have also flocked to Palouse Falls State Park to watch the state's official waterfall plunge 185 feet into the pool below, which can be visited by hikers skilled at negotiating loose rocks on steep slopes.
Eastern Washington is especially good for early-season routes that take hikers to many small desert waterfalls, as well as thawing lakes that attract colorful flocks of migrating waterfowl.
The region's landscape is shaped by volcanic activity and ravaged by cataclysmic Ice Age flooding that broke through Montana's ice dams. These floods from glacial Lake Missoula swept through the Columbia Plateau at peak rates up to 10 times greater than combined flow of all rivers in the world, according to the Ice Age Floods Institute.
The aftermath has morphed into rugged magnificence, as visitors see at Dry Falls State Park and other Columbia Basin hiking destinations.
While much of the region's national forest land and higher peaks such as Mount Spokane will hold snow until May and even longer, several agencies manage large areas at lower elevations that invite hikers to stretch your legs NOW.
Hikers do not need to leave Spokane to enjoy trails in Dishman Hills Conservancy or Spokane County Conservation Futures (www.spokanecounty.org) areas such as Saltese Uplands. But it's a great time of year to take a day or two and explore further.
Crowds still haven't made it to some destinations. For example, a single couple were camping at Sun Lakes-Dry Falls State Park south of Coulee City last weekend as I checked out some of the offers on our public land wealth.
State lands managed by the Washington Department of Fish and Wildlife – nearly one million acres – plus state parks, as well as federal lands managed by the Bureau of Land Management – approximately 430,000 acres – have wild places to explore on foot. All three agencies have websites with basic information about their leisure offerings.
It would take multiple guides to describe all of the early season-only trail options in eastern Washington. Since these books have been researched and published before (see sidebar), I will highlight a simple sampling of the many special areas that are worth exploring.
State Wildlife Areas
ANCIENT LAKES are a popular destination for spring hikes and backpacking camping just a few miles north of Interstate 90 in the 15,266-acre Quincy Lakes unit of the Columbia Basin Wildlife Recreation Area.
The five lakes are fed by seepage and more obviously by a three-stage waterfall which, like most bottom lakes in this area, comes from irrigation runoff.
Desert manna pumped from the Columbia River translates into crops that help feed the world as well as wetlands for wildlife, lakes for fishermen, and scenic destinations for hikers.
Hedgehog cacti can be found in the area, as well as an array of desert wildflowers in bloom in April and May.
There are many user-created trails to explore this sageland basin, fringed with basalt cliffs that rise up to 800 feet high. One route that I found fascinating, about 5 miles, goes like this:
From the north trailhead, follow the main road and turn left at the first main fork to be roughly parallel to the basalt wall on the left that leads to the old lakes.
Go down to the north lake. Take the rugged path on the left side of the lake to climb up the three levels of waterfalls. Enjoy the falling water and spray, then go back and follow the trail that winds on the west side of the next two ancient lakes.
Several trails go up and lead to a large open area. Head east towards the Horseshoe Basin of the Cliffs and look for a trail that winds through a small, rocky, non-vertical slope ramp. Follow the trail as it reaches soft ground and runs along the top wall to a large U-shaped notch that can be scaled for a steep southwest and downward view of the lake Dusty. Dusty is a sweet trout and bass fishing that opened on March 1st. Expect to encounter some wind in this gash.
Then come back down from the notch and continue on the trail that deliciously follows the basalt wall west to the wide main trail that leads from the trailhead to Dusty Lake. Turn right and follow this main road to the trailhead.
Dusty Lake and Frenchman Coulee are among several other notable hiking destinations in this region.
Instructions: From I-90 West of Moses Lake, take Exit 149. Follow SR 281 Spur then SR 281 toward Quincy for approximately 5 miles. Turn left on Route 5 NW. Travel 7.8 miles and turn left on Route 9 NW. Drive 5.9 miles to the trailhead.
In line: North Fork Asotin Creek offers early season hikers access to state wildlife lands in the Blue Mountains near Asotin, WA: bit.ly/2HsP9so
State parks
Dry falls is an awe-inspiring sight from the visitor center along SR 17 south of Coulee City, Washington. Hikers can go one step further by walking the depths of the basin to get a feel for what happened several times during the Ice Age flooding period 18,000 to 12,000 years ago .
Sun Lakes-Dry Falls State Park, south of Banks Lake and Coulee City, offers 4,000 acres to explore surrounded by open land managed by ranchers and the US Bureau of Reclamation.
A favorite hike loops about 3.5 miles from the Umatilla Rock trailhead. From the kiosk, walk up and turn left at the fork, climbing under the south face of Umatilla "Rock", which as you will soon see is a long ridge.
Cross the Dry Falls Lake access road and continue on the trail to Perch Lake. In an open area of ​​gravelly shoreline, turn left and find the trail along the south side of Perch Lake. Soon this marked route curves north and heads towards Dry Falls Lake.
As you approach Dry Falls, look at the rock face that once formed the world's largest waterfall by volume. The late guide author Harvey Manning noted that the Pleistocene waterfall, "400 feet high and three miles wide, would make Niagara look like a leaky faucet."
The trail leads to the parking area, which becomes busy after April 1, when Dry Falls Lake opens for fishing. From the vault toilet, the trail crosses the road, climbs up and begins to return to the start. However, look for a trail that branches off to the left and leads to a short, steep climb to a notch in the cliff.
The notch provides a good view east across Umatilla Rock overlooking Monument Coulee, which is currently recovering from a wildfire. Make a choice here. You can descend east through scree from the notch and take a trail to Monument Coulee that brings you back through eye-catching rock formations to the trailhead. Or go back and continue on the loop trail back to Perch Lake, then over the familiar segment to the trailhead.
Sun Lakes-Dry Falls State Park has a campground, more fishing waters, and is part of a resort offering golf and water sports.
Instructions: From US 2 just west of Coulee City, turn south on SR 17. Stop at the Dry Falls Visitor Center 2 miles, then continue for 3 miles and turn left into Sun Lakes-Dry Falls State Park. Cross the park for 1.2 km and turn left towards Dry Falls Lake. Drive 0.9 mile and turn left towards Dry Falls; walk 0.4 mile and park at the Umatilla Rock trailhead.
In line: Steamboat Rock State Park, about 20 miles north of Coulee City on SR 155, offers a great hike from the campground around the plateau atop the rock of the same name overlooking Banks Lake. Plus, as you drive there, take a peek at Martin Falls, which this time of year dips into a punch bowl next to the freeway at mile 17. Then check out the beautiful spring hike to Northrup Canyon: bit.ly/2HwIVI4
BLM
Escure Ranch south of Sprague, as well as Fishtrap Lake and Hog Canyon, about 25 miles west of Spokane and south of Fishtrap Exit 254, offer excellent Spring Hike routes through the galleys, including a beautiful hike to a waterfall flowing into Hog lake.
Read the detailed stories of these destinations from the United States Bureau of Land Management online:
Correction: This story incorrectly stated when Dusty Lake opened for fishing. The lake opened for fishing on March 1. The story has been updated.