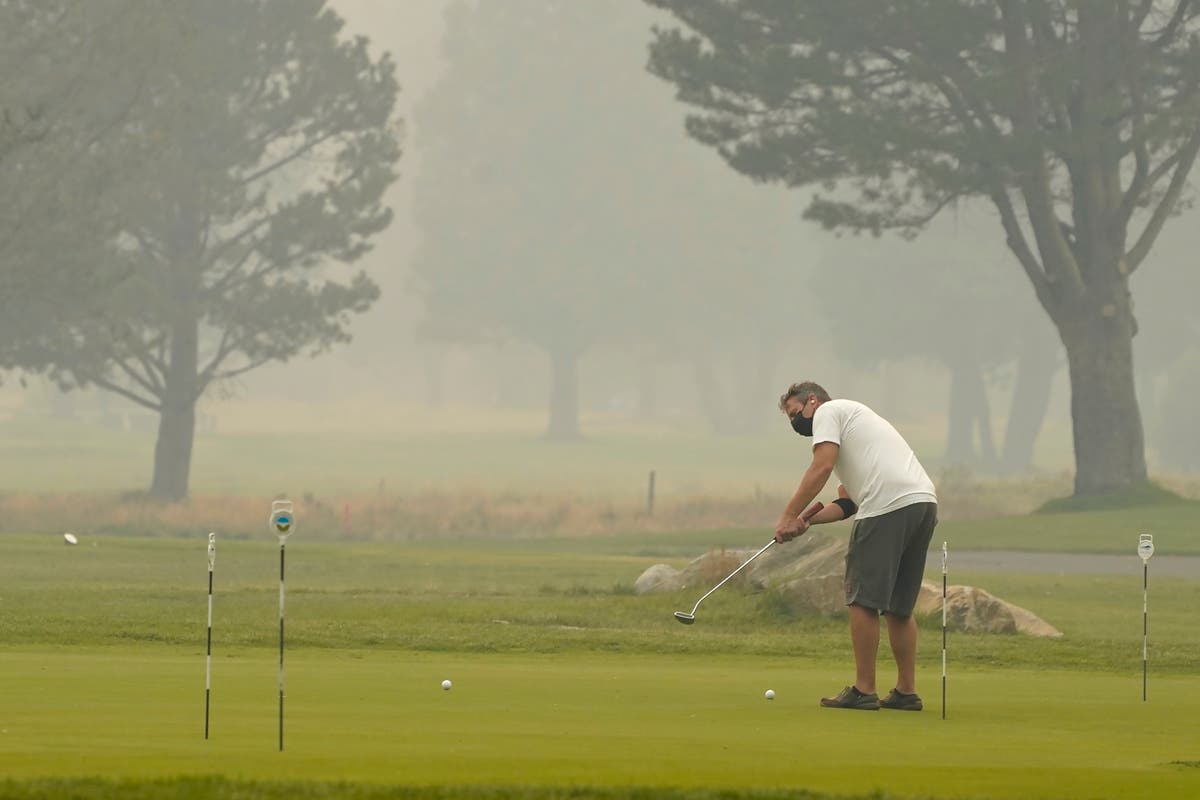 People pictured golfing as Caldor Fire rages in California
The giant, destructive Caldor fire in Northern California may have burned nearly 200 square miles, but that hasn't stopped people in its path from playing golf.
Firefighters said as of Wednesday, 461 homes and 11 commercial buildings had been destroyed, with more than 17,000 structures still at risk.
But with the fire just 15 miles from Lake Tahoe, a golfer was pictured wearing a mask on a smoky green.
Thousands of California firefighters are battling to keep the blaze from reaching the iconic freshwater lake and officials say additional resources, including large firefighting planes, were on the way to help.
Cal Fire Superintendent Thom Porter said earlier this week that the fire was "knocking on the door of the Lake Tahoe Basin."
But no evacuation order exists for the area, a popular vacation and outdoor activity destination, and Mr Porter says he doesn't think the fire will reach it.
But he added: 'Time has passed and Mother Nature has taken over and taken fires like the Dixie to places I never thought possible.'
The US Forest Service has temporarily closed nine national forests through September 6 due to extreme fire conditions.
The Caldor Fire began Aug. 14 and burned 126,182 acres – 197 square miles, and was only 11% contained as of Wednesday, according to Cal Fire.
"It's the No. 1 fire in the country right now. … There are dozens of crews and bulldozers and motors and others that are on the way right now," said Jeff Marsolais, supervisor of the Eldorado National Forest.
In 2021, so far, there have been 6,714 wildfires in the state, which have burned 1.6 million acres, according to the California Department of Forestry and Fire Protection.
And nationally, 92 large fires are burning in a dozen western states, according to the National Interagency Fire Center in Boise, Idaho.
The Biden administration has declared a major disaster in California and ordered federal aid to be made available to four counties affected by fires dating back to July 14.